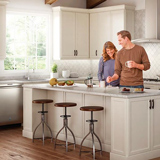 Kitchen Cabinet Construction Methods, Finishes and Applications

About the Sponsor
Wolf Home Products was founded in 1843 as a single store selling dry goods and lumber on the banks of Pennsylvania's Susquehanna River. During the first half of the 1900s, the company expanded into a mid-Atlantic wholesale and retail lumber operation with 30 locations. By the early 2000s, Wolf transitioned its successful lumber operation into a sourcing organization, offering kitchen, bath, and building products to exclusively to independent building materials dealers. Wolf Home Products continued its growth with the introduction of Wolf-branded product lines in 2010. Today, the company is committed to product and geographic expansion, servicing 3,500+ dealers nationally and in Canada.
Course questions/comments
800-234-9653
Monday, December 13, 2021 - 12:00pm to 1:00pm EST
In this course, the design professional will have the opportunity to explore current trends in the housing market to meet the growing need for kitchen cabinets that fit multifamily projects. This course focuses on providing general information about the different types of substrates, finishes, assembly methods, and hardware options that are available for cabinets. In addition, learners will be better equipped to explain how testing ensures that long-lasting, sustainable products meeting ANSI/KCMA certifications can improve the living environment for occupants.
Learning Objectives:
Discuss the current trends in the U.S. cabinet market and explain how there is a growing need for durable, sustainable cabinets that can withstand high usage in the multi-family market.
Compare different types of cabinet substrates and examine the advantages and disadvantages of each surface to identify which are long-lasting and reliable.
Analyze ready to assemble products versus assemble cabinetry to determine which types best fit environmental project specifications.
Explain the effect of applying extensive testing methods in order to produce products that adhere to ANSI/KCMA A161.1 certification and standards.