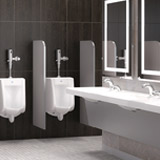 Look Smart! Smart Connected Plumbing Fixtures for Commercial Restrooms

About the Sponsor
Zurn is a leader in commercial, municipal, and industrial markets. We manufacture the largest breadth of engineered water solutions in the industry.
Wednesday, December 21, 2022 - 12:00pm to 1:00pm EST
How smart is your commercial restroom? Join us in this one-hour course as we discuss plumbing fixtures and features in smart connected restrooms. Participants will learn how to specify handwashing systems, touchless sensor faucets & soap dispensers, and sensor flush valves to create a smart and stylish commercial restroom in a variety of applications.
Learning Objectives:
Discuss how handwashing systems streamline the restroom ecosystem, improving effectiveness and reliability
Explain the health benefits of utilizing touchless sensor faucets and soap dispensers in commercial restrooms
Compare material options and features of sensor flush valves for durability, sustainability, and performance
Illustrate how to specify IoT connected plumbing fixtures and other features to create a smart commercial restroom