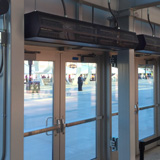 Managing Airborne Pathogens with Air Curtains

About the Sponsor
With over 50 years in business, Mars Air Systems is the international leader in air curtains. Mars delivers highly customized solutions with a simplified process for designers and specifiers. From our Product Selection Configurator and ROI Calculator to our engineers, technical support and sales & customer satisfaction team, Mars has dedicated resources to support you and help solve the toughest challenges. From initial product specification to final installation and operation, Mars will even host a lunch & learn for your firm to help understand how to create solutions using Mars. Count on technically sound support with: Product & accessory recommendations customized to the setting and its environmental constraints because one size does not fit all Technical specifications & ROI calculations with detailed energy savings data Technical guidance for whole facility solutions that produce optimal sanitation Live experts via our customer satisfaction support team Let our team put the power of Mars focused air flow to work for you.
Course questions/comments
310-535-1555
Monday, November 1, 2021 - 1:00pm to 2:00pm EDT
Air curtains create a controlled stream of air across a door or window opening, providing significant energy savings to building owners and helping to maintain interior building temperatures. In addition, some have optional features that can clean and sanitize the air near the opening. This course examines additional features that some models offer in the form of airborne pathogen and virus control and irradiation to help manage the virus level and the disbursement of untreated air near the opening. This course examines how air curtains can reduce airborne pathogens and viruses and improve the indoor air quality near the opening and the various technologies to eradicate and/or collect pathogens, how and when to operate air curtains operate and properly identify applications to maximize the disinfection of the air near the opening.
Learning Objectives:
Summarize pathogen control air curtain with technology terms, components, basic theory, and operation
Assess the design criteria to properly identify, size, and install pathogen control air curtain units to suit the application, resulting in improved sanitation and air quality
Identify how many and where pathogen control air curtains can be utilized to reduce a space's pathogen concentration
Determine the proper pathogen control air curtain configurations and controls to maintain and improve indoor air sanitation levels and occupant safety
Identify pathogen control air-cleaning strategies, that employs new and existing technologies to inhibit the spread of airborne pathogens and viruses in indoor space
Recognize safety test standards and how they apply to pathogen control air curtains