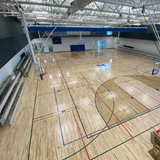 Maple Flooring Centered on Athletic Performance: A Winning Combination

About the Sponsor
Founded in 1897, the MFMA is the only authoritative source of technical information about hard maple flooring. The association publishes grade standards, guide specifications, floor care recommendations and specifications for athletic flooring sealers and finishes available from MFMA headquarters or for download from the MFMA website. Mission Statement: MFMA's mission is to be the worldwide authoritative source of information about maple sports flooring and related sports flooring systems. MFMA accomplishes this mission through the development of quality and performance, installation best practices, education, and by promoting the use of quality maple and sports flooring products. Architects, contractors, school officials and maintenance personnel regularly consult the MFMA with questions about the specification, use and care of MFMA maple flooring.
Course questions/comments
888-480-9138
Friday, December 15, 2023 - 12:00pm to 1:00pm EST
Slam dunk your sports flooring selection! Join us in this one-hour course with Maple Flooring Manufacturers Association (MFMA), an organization that specializes in establishing guidelines for manufacturers, installation procedures and distribution of maple flooring for sports use. MFMA is the trusted advisor for an array of sports flooring installation projects and the authority on technical and general design considerations. In this course, we discuss the specifications and considerations recommended by MFMA for installing a maple sports floor system. A longstanding product, Northern hard maple floors ensure that the health, safety and performance of athletes is not negatively impacted by the playing surface. Course participants will gain insight into key selection considerations used for material specification of maple or synthetic sports floors as well as a variety of subfloor and surface configurations. After this course, participants will be able to convey an in-depth understanding of the defining influence of MFMA on the sports flooring industry and the best flooring products for protecting the health, safety and performance of athletes.
Learning Objectives:
Specify a sports floor and understand occupant health, installation and maintenance considerations for product selections
Examine flooring configurations, best installation practices and flooring choices like maple and synthetics, as well as subfloor considerations to determine which products meet the needs of sport facilities and the safety of the athletes that use them
Assess the codes and standards related to maple sports flooring with a focus on the wellness of building occupants as well as the sustainability of the manufacturing process and final product
Evaluate case studies that demonstrate applications of maple flooring that ensure product longevity, safe occupant use and sustainable practices