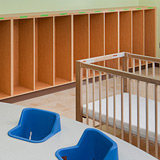 Materials, Technology and Innovative Trends in Laminate Casework

About the Sponsor
Your work. Your space. Your way. Our "design your work" approach is our commitment to ensuring that we develop elegant, practical and flexible furniture and casework solutions that meet your unique needs.
Course questions/comments
989.496.9510
Monday, June 15, 2020 - 12:00pm to 1:00pm EDT
Institutional casework has evolved dramatically over the decades. Innovations in materials, concepts and manufacturing technologies offer advantages. This presentation gives a thorough understanding of the finished casework product to assure quality casework is specified and installed.
Learning Objectives:
Identify laminate casework and its components, focusing on proper construction for safety and aesthetics.
Evaluate laminate types and materials, particularly for their durability and sustainability.
List standards and resources that can be used to ensure laminate casework is installed in safe manner both installers and occupants
Illustrate how to utilize current design trends in laminate casework in variety of applications and markets.