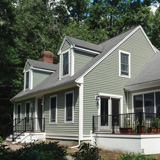 Moisture Management and Exterior Cladding Performance

About the Sponsor
Wolf Home Products was founded in 1843 as a single store selling dry goods and lumber on the banks of Pennsylvania's Susquehanna River. During the first half of the 1900s, the company expanded into a mid-Atlantic wholesale and retail lumber operation with 30 locations. By the early 2000s, Wolf transitioned its successful lumber operation into a sourcing organization, offering kitchen, bath, and building products to exclusively to independent building materials dealers. Wolf Home Products continued its growth with the introduction of Wolf-branded product lines in 2010. Today, the company is committed to product and geographic expansion, servicing 3,500+ dealers nationally and in Canada.
Course questions/comments
800-234-9653
Monday, December 6, 2021 - 12:00pm to 1:00pm EST
In this hour-long webinar you will learn about moisture management and exterior cladding performance, the newest technology for moisture management systems, and learn how to compare and contrast the various exteriors. You will also understand how PVC siding and drain-able weather resistant barriers work together for a superior moisture management system.
Learning Objectives:
Compare and contrast various exterior cladding products
Examine latest trends in exterior envelope moisture management systems
Explain the role exterior siding plays in exterior moisture management
Understanding how the combination of PVC siding and drain-able weather resistant barrier provides a superior moisture management system