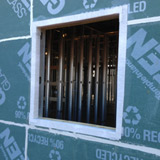 Oh No! What Did I Miss? How to Properly Specify an Air Barrier System

About the Sponsor
The Air Barrier Association of America (ABAA) is a national, not-for-profit trade association that consists of a wide cross section of stakeholders in the building enclosure industry. Their membership includes manufacturers, architects, engineers, trade contractors, researchers, testing & audit agencies, consultants and building owners. ABAA is the national voice of the air barrier industry and has raised the level of quality in the industry through a Quality Assurance Program and offers premier training, certification, product evaluations, contractor accreditation and site quality control audits. ABAA is active in the areas of research, education, standards development, building codes and technical resources for the air barrier industry. ABAA is focused on leading the industry into the future in a progressive and professional manner.
Wednesday, March 29, 2023 - 12:00pm to 1:00pm EDT
Design and Construction documents are one of the first steps towards achieving an effective layer of airtightness to manage moisture and air movement. The importance of a proper specification cannot be understated and a well-articulated document will ensure that the owner is provided with materials, performance and quality. The presentation will review some of the consideration and language that should be reviewed prior to developing a specification and will outline code requirements, performance requirements, what can be done for quality and ensuring material selection meets the intent of design and for crucial coordination with other components of the enclosure.
Learning Objectives:
Understand the benefits of the air barrier systems to the environment, building owner, and occupants
Discuss performance test standards relating to air barrier systems, including the NFPA 285 fire test
Examine the IECC 2012 & 2015 and ASHRAE 90.1-2010 and their impact on air barrier systems
How to properly develop a performance specification for an air barrier system