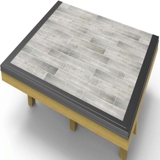 Porcelain Decking Systems: Boldly Going Where Man-Made Materials Have Gone Before

About the Sponsor
Introducing the next generation of deck surfaces. The entire deck system is like a large lego set including the posts, joist/beams, stairs, railing and deck which can be assembled in just a few hours, it's indestructible. This took about 6 years to get all the testing done. We launched nationally but found the public weren't quite ready for something so radically different, so we decided to scale back a bit, and just do the deck board. Once we established a foothold we reintroduce the entire system. The perfect deck surface, a place where family and friends gather, special moments are shared, and memories are made. Our dedicated team of professionals set out to create a premium deck surface, an extension of your home, a place that allows you to live outside ordinary.
Course questions/comments
877-239-4449
Monday, August 12, 2019 - 12:00pm to 1:00pm EDT
Learn about the evolution of decking materials and compare and contrast their characteristics. Discover cutting-edge developments in decking technology.
Learning Objectives:
Discuss the evolving use of different materials to construct usable outdoor surfaces
Identify the strengths and weaknesses of the different materials historically utilized for decking
Identify methods of overcoming limitations posed by using different decking materials
Explain how porcelain, historically used for indoor flooring, is being adapted for use outdoors, and identify performance characteristics of these innovative decking systems