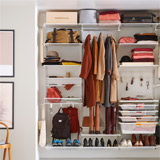 The Power of Organizing: Transform Your Space with Custom Closets & Storage Solutions

About the Sponsor
The Container Store Group, Inc. is an American specialty retail chain company that operates The Container Store, which offers storage and organization products, and custom closets. The company has made Fortune's list of "100 Best Companies to Work For" in each of the past 17 years, through 2016.
Thursday, December 1, 2022 - 12:00pm to 1:00pm EST
Nowadays, our homes aren't just homes—they're offices, classrooms, and gyms, to name a few. Architects, designers, homeowners, and residents are looking for functional and flexible storage solutions that look great, too! Join us in this one-hour course as we discuss custom closet and storage solutions that promote organization and optimization in any space. Participants will learn how to incorporate organizing principles and design trends in order to make spaces accessible, adaptable, and aesthetically pleasing for all users in a variety of applications.
Learning Objectives:
Identify organizing trends and principles that improve occupant wellbeing by optimizing space
Demonstrate how custom closet and storage solutions can help make spaces more accessible and functional for all users
Illustrate the mental benefits of flexible storage solutions that are easily adaptable for different needs within a space
Design custom closet and storage solutions that meet a variety of aesthetic and functional needs in a wide array of residential environments and commercial markets