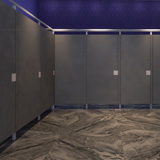 Privacy in Today's Commercial Restroom

About the Sponsor
Scranton Product's well-known brands feature the most durable, low maintenance and best looking partitions, lockers and industrial sheet products in the industry. They won't dent, rust or need painting, and because they are colored throughout, delamination is not a factor.
Course questions/comments
570-348-0997
Thursday, December 9, 2021 - 12:00pm to 1:00pm EST
In this program, we explore the current trends and issues changing the way we design restrooms. We'll discuss what users want in restroom experience, demand for increased privacy, and solutions for making your restroom the best room.
Learning Objectives:
Discuss public restroom evolution and how current trends are changing the way we design restroom.
Explain how restrooms impact building users and the increasing demand for higher privacy.
Identify how to increase privacy in your restroom design and compare and contrast the various partition materials and styles available that can help.
Discuss the production process of HDPE partitions and how this contributes to a more sustainable, healthier indoor environment.