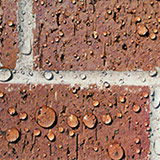 Protective Treatments for Masonry and Concrete

About the Sponsor
PROSOCO is a national manufacturer of products for cleaning, protecting and maintaining concrete; making building envelopes air- and water-tight; and cleaning, protecting and restoring new and existing masonry buildings. We strive to provide innovative products and services that improve the appearance and performance of our built environment. Since its founding in 1939, the company has excelled at the innovation and development of superior products and services for the construction industry. The United States Capitol Building, Grand Central Station, the World Trade Plaza, the Smithsonian Institute, Jacobs Field. . . PROSOCO products are a part of constructing, restoring, and preserving our present and our past. PROSOCO has offices and production facilities in Lawrence, Kansas with an extensive sales and technical support staff throughout the United States. PROSOCO products are available internationally with products currently sold in Canada, the United Kingdom, Ireland and China through licensed manufacturers.
Course questions/comments
800-255-4255
Friday, May 22, 2020 - 12:00pm to 1:00pm EDT
An overview of the effects of water on masonry architecture. Types of masonry water repellents are compared and contrasted. Application methods are discussed. The program ends with a look at treatments for protecting masonry against non-water threats such as oil and graffiti.
Learning Objectives:
Name six common water-related problems for masonry and concrete
Explain how film-forming protective treatments damage masonry and concrete
Describe how breathable, penetrating protective treatments work
Explain the general procedure and requirements for applying protective treatments
Describe the limitations of protective treatments
Explain how air & water-resistive barriers complement water-repellents on masonry walls
Describe how hardener-densifiers protect concrete floors
Explain how and why VOC regulations affect protective treatment selection
Identify the basis on which to select a protective treatment