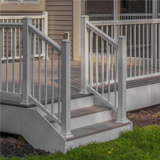 Railing Made Simple

About the Sponsor
AZEK Building Products manufactures home building materials under two divisions: TimberTech® and AZEK Exteriors®. TimberTech offers a premium portfolio of capped polymer and capped composite decking – as well as railing, porch, lighting and paver products – while AZEK Exteriors manufactures distinctly unique trim and moulding. Together the brands present homeowners, builders, architects, dealers and contractors with a comprehensive suite of first-rate products that are long lasting, sustainable alternatives to wood. AZEK is headquartered in Chicago, IL (with plants in OH and PA) and also owns Minneapolis-based Ultralox railing systems.
Friday, August 26, 2022 - 12:00pm to 1:00pm EDT
In this course, we will familiarize attendees with styles and trends within railing systems and discuss how railing material choices affect safety, appearance, and future maintenance. The design professional will learn about code compliance and how product standardization helps to meet regulatory goals. We will demonstrate how the use of standardized products and processes will help design professionals be able to simplify the development of railing details and master specifications that can be used for a variety of project types. The advantages of using standardized products will be discussed as well as product applications. We will end the course by exploring attributes of a reputable manufacturer, such as credibility, quality, knowledge, and standardization in products.
Learning Objectives:
Identify styles and trends within railing systems and discuss how railing material choices affect safety, appearance, and future maintenance
Discuss code compliance and explain how product standardization helps to meet regulatory goals such as the ADA guidelines for railing systems
Explain the value of using standardized products and processes in order to develop railing details and master specifications that may be applied to diverse projects
Evaluate suppliers to determine whether they are reputable manufacturers that provide code compliant, standardized, railing products