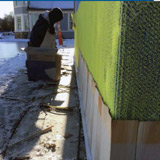 A Range of Rainscreens: In-Depth Look at the Variety of Rainscreen Applications

About the Sponsor
Our products enhance the building system to maximize the performance, durability, and value of a building's most critical elements—its outer structure. When you "Build Better" with Benjamin Obdyke, you build to last.
Course questions/comments
215-672-7200
Wednesday, September 22, 2021 - 12:00pm to 1:00pm EDT
Selecting the appropriate moisture management system for the building envelope can be a daunting task. Determining the appropriate rainscreen application can be based on several contributing factors – climate, building codes, cladding, and a variety others. This course will explore the importance of rainscreens as a moisture management solution, as well as the characteristics of the assortment of applications.
Learning Objectives:
Understand the performance characteristics of rainscreens in the building envelope.
Recognize the characteristics and differences of "open" and "closed" rainscreens.
Understand and identify the installation applications of open and closed rainscreens.
Recognize the pre-installation considerations when choosing the appropriate rainscreen application.