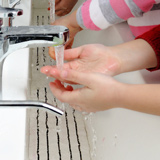 Rethink Water Heating

About the Sponsor
Eemax is leading the evolution of hot water with cutting-edge technology that provides consistent hot water. It is our mission to drive the progression of efficiency maximized by developing advanced tankless electric hot water heating solutions. We are empowering professionals with trusted and versatile products that can accommodate a multitude of installation scenarios. Today, Eemax products are delivering energy-efficient hot water for restaurants, schools, manufacturing facilities, commercial restrooms, laundries, breweries, medical facilities, and more. Wherever hot water is needed—Eemax has the solutions—making us America's #1 choice for tankless electric water heaters. Learn more @eemax.com.
Course questions/comments
2034270527
Tuesday, November 2, 2021 - 12:00pm to 1:00pm EDT
The challenge for plumbing design professionals is finding the right balance between performance and efficiency in water heating systems. The information covered in this presentation is applicable across the commercial, residential, and industrial built environment. A review of plumbing code requirements and insights into specification considerations will be shared. This ASPE and AIA accredited course will identify types of water heating technologies with a focus on tankless electric water heater (TEWH) function and design. Technology selection challenges are discussed with a consideration of balance in the overall design (look and feel), functionality, and performance while ensuring compliance with both local and national codes.
Learning Objectives:
Upon completion participants will understand service water heating codes that dictate design parameters for safe and efficient hot water delivery. Codes: UL, UPC, IPC, IECC, ANSI, NEC.
Upon completion participants will understand differences between traditional and non-traditional types of water heating technologies, identify strengths and limitations of each in commercial and residential water heating applications.
Participants will interpret and compare design savings and benefits of TEWH versus tank-type systems, TEWH attributes and advantages. Examples to select and size for specific applications are given.
Participants will understand how TEWH can be applied, with TEWH system design outcomes, and how TEWH supports reduced carbon, net zero, and zero emission initiatives will be realized.