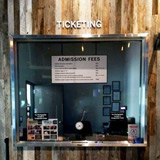 Security Pass Thru Combinations

About the Sponsor
For over 30 years, Quikserv has been devoted to manufacturing top quality transaction window and drawer systems for our customers. Superior materials and craftsmanship in the design and production of our products, combined with exceptional customer service, means better value and fewer problems for our customers. We put more into our products and service, so you get more benefits. Your total satisfaction is our guarantee.
Monday, July 20, 2020 - 12:00pm to 1:00pm EDT
The course teaches about bullet resistant and secure pass thru windows and equipment to keep employees safe in hospitals, banks, pharmacies and all public domains. The course will instruct upon the varying levels of bullet resistant protection, anti-theft, various window tints, shades and security levels.
Learning Objectives:
Define & clarify the types of bullet resistant protection levels.
Evaluate & recognize where and when to specify security windows and pass thru devices.
Specify correct products to support the design criteria.
Distinguish the differences of fire-rated applications along with added security measures and how they overlap.