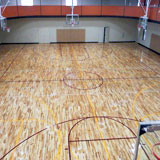 Selecting The Best Sports Floor

About the Sponsor
Founded in 1897, the MFMA is the only authoritative source of technical information about hard maple flooring. The association publishes grade standards, guide specifications, floor care recommendations and specifications for athletic flooring sealers and finishes available from MFMA headquarters or for download from the MFMA website. Mission Statement: MFMA's mission is to be the worldwide authoritative source of information about maple sports flooring and related sports flooring systems. MFMA accomplishes this mission through the development of quality and performance, installation best practices, education, and by promoting the use of quality maple and sports flooring products. Architects, contractors, school officials and maintenance personnel regularly consult the MFMA with questions about the specification, use and care of MFMA maple flooring.
Course questions/comments
888-480-9138
Friday, December 16, 2022 - 12:00pm to 1:00pm EST
The health, safety and performance of athletes is affected by their playing surface. This course discusses the key selection considerations used for material specification of maple or synthetic sports floors and describes a variety of subfloor and surface configurations. The Maple Flooring Manufacturers Association (MFMA) – manufacturers, sport floor contractors, distributors and product manufacturers who subscribe to established quality guidelines – is the authoritative source for technical and general information about maple flooring and synthetic sports flooring systems.
Learning Objectives:
Define MFMA PUR Standards and how they determine a competitive sports floor
Discuss the different sports floor choices available including both maple and synthetic options
Identify what to consider and which questions to ask prior to specifying a sports floor
Explain the types of sub floor configurations for sports floors