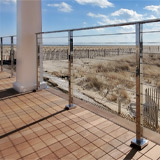 Sistemas de Barandillas Prefabricadas

About the Sponsor
If you're looking to insert a modern design element, railing systems by AGS Stainless provide innovative options for every application. Design consultants at AGS Stainless work with you and/or your contractor to determine the design goals, project scope, and material specifications for providing a detailed cost estimate. All railing systems are custom-designed, built-to-order solutions developed for easy assembly and installation. AGS Stainless will be there along every step of the way to make sure that your project is completed to satisfy your desires or match your specification.
Course questions/comments
888-842-9492
Tuesday, June 28, 2022 - 12:00pm to 1:00pm EDT
Este curso está diseñado paraque los asistentes aprendan las diferencias entre los sistemas de barandillas fabricados onsite por fabricantes locales vs. prefabricados a medida 100% offsite.
Learning Objectives:
Explicar las ventajas de los sistemas de barandillas prefabricados y hechos a medida de acero inoxidable
Comparar y contrastar los diferentes tipos de materiales usados para la fabricación de los postes, pasamanos y material de relleno de las barandillas
Describir cuál son las principales ventajas o desventajas de la fabricación local para los sistemas de barandillas vs. la prefabricación
Evaluar los requerimientos de seguridad y salud del Código de la Edificación para un sistema de barandillas de acero inoxidable