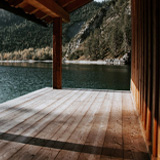 Specifying the Lowest Maintenance Wood Sealers

About the Sponsor
In 2010 the pioneers of Montana Timber Products saw the need for rustic wood products and a demand for a suitable substitute for reclaimed wood products. Confident that we could produce a finish that would replicate the reclaimed wood look and feel, we began the process of building a successful business. Starting small, one customer at a time, Montana Timber Products began selling Fir siding and timbers to a few local builders in Southwest Montana. Today, Montana Timber Products has grown to be the largest supplier of specialized rustic wood building materials in the United States. We have expanded our product lines, increased color options, added Cedar, and focused on our production processes to bring our customers a great value based product. Our market has expanded with our customers covering the entire United States and Western Europe. We have had a lot of help along the way, but most of all, our success is founded on a great product and customer service.
Thursday, May 28, 2020 - 12:00pm to 1:00pm EDT
In this one-hour course, the design professional will be given the opportunity to consider ways that pre-finished wood products may be used to enhance the beauty of natural wood while expanding its life expectancy. Various types of stains and sealants will be discussed to discover the advantages and disadvantages of each type. Then, we will look at specific attributes of water-based coatings, including environmental benefits, compliance, maintenance, sustainability, and protection. A discussion of shop-applied versus field-applied coatings will be conducted to help design professionals be better equipped to determine which system best meets the needs of their projects. Design professionals will then be able to visualize several product applications, including exterior wood uses, residential, commercial, and hospitality venues to spark their creative design skills as they approach their next project where wood is used as a natural resource to produce enduring, aesthetically-pleasing structures that inspire the well-being of building users.
Learning Objectives:
Identify the common types of wood stains and explain the advantages and disadvantages of each type to better protect the environment and people.
Explain the qualities of water-based coatings including life expectancy, compliance, maintenance, and environmental benefits.
Compare and contrast the benefits of shop applied vs. field applied coatings: single-source, environmental, aesthetics, quality, and year-round construction.
Analyze the various applications including interior, exterior, siding, trims and timbers, and cladding in both commercial and residential markets to visualize ways to improve the well-being of building occupants.