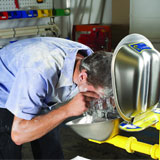 Specifying for Safety Emergency Eyewash & Shower Equipment

About the Sponsor
Bradley Corporation features an industry-leading assortment of commercial plumbing products in the world. Architects and specifiers look to Bradley for the most innovative products in categories such as: washfountains, multi-station lavatory systems, terreon solid surface products, emergency eyewash fixtures and drench showers, electric tankless heaters, patient care lavatory units, commercial faucets, commercial & group showers, washroom accessories, solid plastic locker systems, washroom partitions. Bradley makes it easy to specify these products through a seasoned customer service staff and the best information tools in the industry.
Course questions/comments
1-800-BRADLEY (1-800-272-3539)
Wednesday, November 9, 2022 - 12:00pm to 1:00pm EST
This one-hour course provides an overview of the types and use of emergency wash equipment, the latest ANSI requirements that affect design, and tepid water requirements for emergency equipment.
Learning Objectives:
Explain the importance of emergency eyewash and shower equipment in settings where users are exposed to hazardous substances
Comply with regulations and design best practices for locating and specifying emergency eyewash and shower equipment
Incorporate emergency eyewash and shower equipment in workplace and teaching environments
Comply with tepid water requirements for emergency fixtures by incorporating a tepid water solution