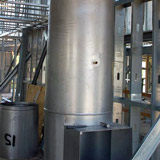 Trash, Recycling & Linen Chutes: Components and Installation

About the Sponsor
CHUTES International™ Is Completely Dedicated To Delivering The Newest, Most Innovative Debris Removal Systems, And Backing Them With An Absolute, Uncompromising Service Guarantee Whether it be external steel or plastic, internal trash, recycling or laundry or the accompanying necessities such as compactors, baggers, containers or odor control for the trash room, you can depend on CHUTES to provide the highest quality product. We strive to keep revolutionizing the the debris and linen chute marketplace. Our goal is to produce new, innovative quality products, offer them at an affordable rate, and provide each customer with exemplary service. When you work with us, you'll soon realize that we'll do whatever it takes to deliver complete satisfaction to each and every customer. When the market demanded a better chute, we answered the call. Before CHUTES International, most chutes were poorly designed and lacked quality manufacturing. We, in fact, purchased chutes manufactured by other companies. They were difficult to assemble, they clogged easily, and sometimes even broke because they were not made of durable materials. However, no manufacturer offered a chute that solved these problems. So, we decided to solve the problem ourselves, and construct our own chutes that would revolutionize the industry. We did just that.
Course questions/comments
800-882-4883
Wednesday, July 14, 2021 - 12:00pm to 1:00pm EDT
Trash, recycling, and linen chutes must be designed, installed, and maintained to meet the 2019 NFPA 82 standard. This course addresses trash, recycling, and linen chutes and includes discussions on system components, accessory components, compactors and sorters, and meeting NFPA 82 requirements. The program also guides you through a typical installation of a chute system.
Learning Objectives:
Identify the various components that comprise a chute system and describe how trash, recycling, and linen chute systems differ.
Explain the NFPA 82 requirement for automatic sprinklers, and how flushing spray heads help eliminate fire hazards.
Discuss how electric, wave, and pneumatic doors, disinfecting and sanitizing units, and heat sensors are used to protect building occupants from fire, falling debris, and odor and bacteria exposure, and provide ease of operation.
Describe the steps involved in the installation of a typical trash, recycling, or linen chute, and accessory components to ensure an NFPA 82-compliant system