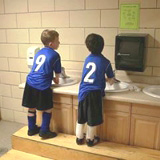 Trending Accessible Design Standards: Restrooms, Locker Rooms & Adjacent Public Spaces

About the Sponsor
Bradley Corporation features an industry-leading assortment of commercial plumbing products in the world. Architects and specifiers look to Bradley for the most innovative products in categories such as: washfountains, multi-station lavatory systems, terreon solid surface products, emergency eyewash fixtures and drench showers, electric tankless heaters, patient care lavatory units, commercial faucets, commercial & group showers, washroom accessories, solid plastic locker systems, washroom partitions. Bradley makes it easy to specify these products through a seasoned customer service staff and the best information tools in the industry.
Course questions/comments
1-800-BRADLEY (1-800-272-3539)
Wednesday, November 10, 2021 - 12:00pm to 1:00pm EST
Accessible design is a core requirement for most facility design projects. Ten (10) Emerging Accessible Design Trends & Tools demonstrate how designers are applying them to their projects. The class identifies who needs and how to provide accessibility in the toilet & locker room space. The presentation solutions references ADA, TAS, CA Title-24, ANSI 117.1 and Canadian accessibility standards' compliance for restroom, locker room and adjacent space design. We conclude by defining the Seven (7) principles of universal design, proper selection [specification] & placement of fixtures & accessories with their respective clearances in accordance with the identified standards.
Learning Objectives:
Identify 10 Emerging Accessibility Design Trends & Tools.
Explain the principles of accessibility and universal design.
Assess and Apply accessibility standards and regulations that govern accessible toilet & locker rooms.
Evaluate and Apply accessible design for toilet & Locker room layout, through fixture\accessory selection and placement.