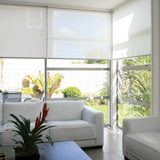 Understanding Light Management When Specifying Window Fabric and Shade Systems For Occupant Wellness and LEED Credits

About the Sponsor
Rollease Acmeda Contract is a leading specialist in daylight management and energy efficient window shade solutions for commercial building projects. We connect the technical aspects of light and shade control with architectural design to maintain a fashionable aesthetic without sacrificing daylight and energy management. Through our nationwide shade fabrication network, we deliver locally manufactured motorized or manual shading systems engineered for durability, longevity, and aesthetics.
Tuesday, October 19, 2021 - 12:00pm to 1:00pm EDT
This course covers design solutions for using shading systems to help building owners save money and eliminate occupant discomforts from glare, lack of quality views, thermal discomfort, and poor air quality. Shading system provides comfort, economic savings, and can add to the LEED projects by contributing to more than seven credits in versions 4 and 4.1. In addition to looking at the benefits, this course highlights systems, the fabric openness factor, and describes what automation can do for your project; It helps you to answer the question to motorize or not. Effective shading systems can help improve employee productivity by creating an optimal indoor temperature between 68-73 degrees Fahrenheit, allowing for quality views of the outdoors, and reducing the adverse effects of glare on the work surface. In creating such an environment, scientific studies have witnessed productivity levels rise as high as 21% while reducing absenteeism.
Learning Objectives:
Develop design strategies to connect building occupants to the outdoors through nature views while effectively controlling heat and glare thus maximizing occupant productivity.
Facilitate new thinking for design challenges in achieving green building credits relating to daylighting, quality views, and thermal comfort with shade control systems.
Explain the importance of transparency documentation relating to material screening of the chemical composition testing for complete shading systems.
Differentiate design applications for shading system control by manual users, motorized components, or whole building automation and how control creates the potential for energy savings year after year.