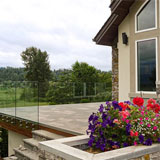 Waterproofing Roof Decks and Balconies with PVC Membranes

About the Sponsor
Duradek is known throughout North America for its industry leadership in deck and balcony products. Considered the pioneer of the vinyl decking industry, Duradek is committed to this leadership position. The company invests heavily in ongoing product testing and third-party quality control. Duradek, the original vinyl decking, was first conceived by two general contractors back in the early 70's. They made the connection between the performance of the marine vinyl in their fishing boat and the benefit that could bring to the sundecks in BC's Okanagan region. Thus, an industry was born!
Tuesday, November 28, 2023 - 12:00pm to 1:00pm EST
Provides an overview of walkable, waterproof roof deck membranes and roofing systems, including a discussion of the key principles of deck design, design considerations, and how to install and specify roof deck membrane systems. This program will be extremely beneficial to architects, specifiers and contractors involved in single and multiple family homes that include decks, balconies, and roof top decks.
Learning Objectives:
Walkable roof deck membranes and waterproofing options
Their characteristics, advantages, and applications
Important design concepts and considerations
Installation considerations and common details
Key specification issues for roof deck membranes