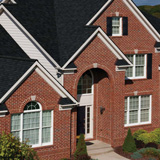 What Should be Considered when Specifying a Masonry Veneer Cavity Wall System?

About the Sponsor
Owens Corning is a global company leader for 80 years, we've been a leader in insulation roofing, and composites. And our global presence, with 20,000 people in 33 countries, help us keep a pulse on the needs of customers around the world. Our commitment to market-leading products and innovations has kept our Company on the Fortune 500 list for 64 consecutive years.
Tuesday, December 10, 2019 - 12:00pm to 1:00pm EST
What should be considered when specifying a masonry veneer cavity wall system? this course will educate participants on the functional components and system attributes of the most common exterior wall system, steel stud with masonry veneer. The course will detail key system components such as air / water restrictive barriers, air sealing practices, masonry wall ties and water drainage/ management practices. Key codes and standards will be reviewed to define system interaction and key specification practices will be reviewed to create a wall as a system.
Learning Objectives:
Create continuous air and water barrier assemblies to reduce energy and prevent moisture damage.
Define and specify drainage and ventilation in a high performance masonry cavity wall system.
Define and specify high performance attachment methods that reduce air, water, and thermal leakage.
Describe an effective method to specify a high performance wall system.