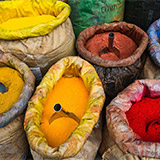 Why Pigments Matter

About the Sponsor
When it comes to premium paints and stains for your home, Benjamin Moore has set the standard for excellence, since 1883. We manufacture our own resins and exclusive Gennex® colorants, which deliver superior performance and application properties in every product. Paired with our incomparable selection of authentic colors, Benjamin Moore paints are formulated to help you achieve beautiful, lasting results—every time you paint.
Course questions/comments
(866) 708-9181
Friday, July 24, 2020 - 12:00pm to 1:00pm EDT
This course explores how choices affect the appearance and performance of architectural paint. We will discuss the types of pigments used in architectural paints is tinted, and how the choices of pigments and colorants influence factors such as hide, gloss, fading, durability, and pride.
Learning Objectives:
List the types of pigments
Recall the types of colorants
Describe the performance characteristics of paint that are impacted by pigments and colorants
Explain the advantages of advanced waterborne colorants