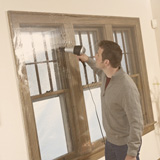 Window Retrofits for Occupant Comfort and Energy Efficiency

About the Sponsor
Our mission is to provide you with comfort, quiet and savings while helping preserve the environment and historic buildings. Indow was launched in November 2010, delivering an easy-to-use window insulation solution in an elegant form. Our window inserts are now available across the U.S. and Canada and we are growing! Our dynamic team is dedicated to building and refining our product, custom making each insert to fit drafty or under-performing windows. Our vision is that as we become more efficient, we will share the increased profit margin with our workers through higher wages, with the company through reinvested earnings to fuel continued growth, and with our customers through lower prices that will make the product easier to purchase and therefore block more climate-changing CO2 emissions. We will reach this vision if we harness the creativity and discipline of each team member and if our customers support our continued growth
Course questions/comments
503-284-2260
Friday, August 14, 2020 - 12:00pm to 1:00pm EDT
Provides a one hour overview of window insert systems and includes: discussions on the history of storm windows and storm window classifications, functional benefits and applications of window insert systems, and relevant performance metrics and specifications for the purpose of energy efficiency and tenant comfort.
Learning Objectives:
List and describe the various types of storm windows on the market today and understand the materials and construction of each type.
Identify the value of storm window applications for preserving and maintaining historic structures
Discuss energy saving differences between various window products to then identify what is best for your project's space.
Describe the non-energy benefits of storm windows, including occupant comfort and acoustic dampening.