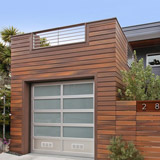 Wood-Plastic Composite Cladding for Sustainable Rainscreen Wall Systems

About the Sponsor
Founded in New London, North Carolina in 1997, Fiberon built its business selling high-quality, eco-friendly composite decking, railing and fencing. In 2007, after a period of rapid growth, Fiberon expanded operations to Meridian, Idaho, enabling efficient bi-coastal manufacturing and distribution. Today, Fiberon employs more than 500 people, each one working to extend the company's legacy of quality, innovation and sustainability.
Friday, October 1, 2021 - 12:00pm to 1:00pm EDT
Rain is one of the most important things to control in wall construction for both a building's structural integrity and the occupants' health. Join us in this one-hour course as we discuss the aesthetic, performance, and sustainable attributes of wood-plastic composites (WPCs) for use in rainscreen applications. Participants will gain a new understanding of how WPC cladding should be applied and fastened in rainscreen systems.
Learning Objectives:
Identify potential moisture management issues that can cause harm to both a building's aesthetic and structural integrity as well as occupants' health and safety
List four basic components of rainscreen wall systems that help minimize rainwater passage into the wall and effectively dissipates any water remaining back to the exterior
Compare and contrast the suitability of various cladding materials to serve in rainscreen systems, particularly their durability, sustainability, and safety
Evaluate wood-plastic composite (WPC) cladding options for use in rainscreen applications, including recyclability, strength, and life-cycle cost attributes