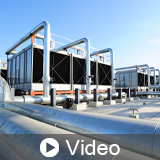 The Five Ws: Specifying Industrial and Commercial Coatings for Various Applications

About the Sponsor
Lava-Liner, Ltd. is a woman owned, small business. Lava-Liner has been providing problem solving protective membranes, coatings, and surface treatments for more than 25 years. The first to design and deliver fire retardant asphaltic waterproof urethanes for OEM customers and later to the construction industry at large. In 2000 Lava-Liner designed anticorrosion and Fire-Retardant coatings containing antimicrobial properties for the HVAC industry to inhibit the growth of biofilm and bacteria including Legionella and Pseudomonas that are continuing threats in evaporative cooling systems. Specialty coatings for the B2B market include Fire Retardant Urethanes and Epoxies using both passive (intumescent) and Active Fire suppression technologies, highly chemical resistant epoxies for containment and protective urethanes for pipe coatings and metal surfaces serving the secondary maintenance and repair markets. Lava-Liner's mission is to provide customers with personalized service and exceptional protective membranes whether it be off the shelf or niche designed for an individual customer's specifications.
Course questions/comments
415-761-9247
Coatings are an integral part of many projects but seldom receive the attention they deserve. Join us in this one-hour course as we discuss how to properly specify coatings in a wide variety of applications. Participants will be able to evaluate different coating types based on performance and safety characteristics in order to choose the one best suited for specific applications.
Learning Objectives:
Identify the need for coatings in different settings, including common safety and structural problems that arise when coatings are not properly specified and installed
Compare and contrast types of coatings such as epoxies, polyurethanes, and others, focusing on the durability, performance, and sustainability of each
Evaluate different coating types in order to choose the one best suited for each application, including ones that might require waterproof and/or fireproof coatings for safety and durability
Develop specifications that accurately prescribe the surface preparation needed for specific applications such as cooling towers, roofing, etc.
Design Category (CSI Division):