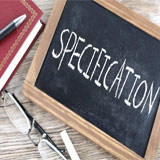 Deconstructing Specifications Writing

About the Sponsor
Through the years there's plenty of companies writing wordy, time-consuming CSI formatted specification systems. At ZeroDocs specifications, we want to change the way design professionals and building product manufacturers look at construction specifications. We're rethinking how traditional CSI 3-part formatted specifications are written and condensing them into shorter, easier-to-edit specification templates for design professionals to produce project specs in a fraction of the time.
Tuesday, January 25, 2022 - 12:00pm to 1:00pm EST
The majority of design professionals prepare specifications for only a few projects each year, so they are not as proficient at specification writing as other aspects of their profession.
This one-hour course will teach you the basics of specifications, allowing you to produce accurate, enforceable specifications that will be easily understood by everyone involved in the construction process.
Learning Objectives:
Describe the role of the participants in a construction project and the purpose of construction contracts, contract documents and bidding requirements
Utilize CSI/CSC MasterFormat and SectionFormat in preparing specifications and effectively use the Division 01 concept
Explain the various methods of specifying and how they apply to construction specifications
Prepare a properly written specification section