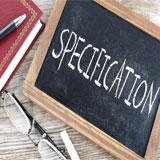 Deconstructing Specifications Writing

About the Sponsor
Ron Blank & Associates, Inc. and its affiliates are leading providers of continuing education for building design professionals, through online courses, Lunch & Learns, webinars, and CE Academies. RBA physically meets with architects, engineers, interior designers, and other design professionals in over 50 different markets across the U.S. every year through our architectural specification program. As an AIA Cornerstone Partner and winner of the AIA's Continuing Education Award For Excellence in 2002 and 2008. Since 1985, we have helped bridge the gap between building product manufacturers and design professionals.
Course questions/comments
800-248-6364
Friday, November 4, 2022 - 12:30pm to 1:30pm EDT
The majority of design professionals prepare specifications for only a few projects each year, so they are not as proficient at specification writing as other aspects of their profession.
This one-hour course will teach you the basics of specifications, allowing you to produce accurate, enforceable specifications that will be easily understood by everyone involved in the construction process.
Learning Objectives:
Describe the role of the participants in a construction project and the purpose of construction contracts, contract documents and bidding requirements
Utilize CSI/CSC MasterFormat and SectionFormat in preparing specifications and effectively use the Division 01 concept
Explain the various methods of specifying and how they apply to construction specifications
Prepare a properly written specification section