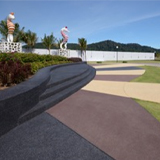 Decorative Concrete Applications and Trends

About the Sponsor
The ASCC is a non-profit concrete contractors association dedicated to enhancing the capabilities of those who build with concrete. As the world's premier cast-in-place concrete association, the ASCC is committed to providing concrete contractors a unified voice in the construction industry. Members of our association include concrete contractors and general contractors that self-perform, manufacturers, suppliers and others interested in the concrete industry such as architects, engineers and educators.
Course questions/comments
8667882722
Wednesday, September 25, 2019 - 12:00pm to 1:00pm EDT
Decorative concrete continues to evolve driven by an increased level of artistry at the Contractor level. In this presentation you will learn the tools and methods to increase productivity.
Learning Objectives:
Decorative concrete- the past
Where do trends come from
Overall design trends
Decorative concrete trends
Predicting the Future