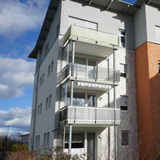 Enduring Beauty: High Performing Polymer Cladding Systems

About the Sponsor
AZEK Exteriors manufactures home building materials under two divisions: TimberTech® and AZEK Exteriors®. TimberTech offers a premium portfolio of capped polymer and capped composite decking – as well as railing, porch, lighting and paver products – while AZEK Exteriors manufactures distinctly unique trim and moulding. Together the brands present homeowners, builders, architects, dealers and contractors with a comprehensive suite of first-rate products that are long lasting, sustainable alternatives to wood. AZEK is headquartered in Chicago, IL (with plants in OH and PA) and also owns Minneapolis-based Ultralox railing systems.
Thursday, December 15, 2022 - 12:00pm to 1:00pm EST
This course encourages participants to think outside the box and consider using polymer cladding as a material to create aesthetic, enduring, and moisture resistant rainscreens that will better protect buildings and its occupants. We will discuss other more commonly used products and the issues faced with each. We will also consider life cycle costs of various cladding options, including polymer. Finally, participants will leave with a thorough understanding of how to install polymer extrusions as cladding. We will explore doing so on different substrates, detailing around openings, transitions between differing cladding materials and how to handle joints between cladding components with the goal of using polymer as a resource to promote health, safety, and welfare of both people and the environment.
Learning Objectives:
Compare and contrast PVC as a cladding material that may be used in creative solutions
Discuss the product's credibility, longevity, functionality, enhanced aesthetics, and design flexibility of open jointed cladding solutions to better protect the building and its occupants
Address the life cycle advantages and sustainable features of high performing open jointed cladding solutions that contributes to the health, safety, and welfare of people
Examine installation tips and analyze appropriate applications of polymer to benefit both the environment and people