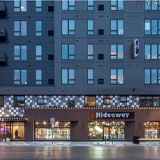 The Future of Exterior Facades: How Modular Panel Systems and Technology are Revolutionizing the Metal Panel Industry

About the Sponsor
CEI Materials is a Nation-Wide, full-service provider of Architectural Cladding Systems and Components. From concept to completion, new construction or retrofit, clients can rely on CEI to deliver the highest standard of quality. CEI works with Architects, General Contractors, and Installers on all aspects of the project including Design Assist, Project Management, Fabrication, and Installation. CEI provides Metal Composite Material, Phenolic, Column Covers and Aluminum Plate panel systems. In addition, CEI has the capabilities and expertise to provide custom fabricated Sunshades, Louvers, Screen Walls, and Pre-Engineered Modular Structures. Greatness can only be achieved with Commitment, Enthusiasm, & Integrity. We bring these qualities to each and every one of our projects.
Course questions/comments
734-212-3006
Thursday, October 5, 2023 - 12:00pm to 1:00pm EDT
Join us in this one-hour course as we discuss Modular Panel Systems (MPS) as they relate to the demand for utility and performance in exterior cladding selections. After this course, participants will have mastered expertise in MPS including sustainability measures, pressure equalized rainscreens and design aesthetics as well as the advantages tailored for architectural specification.
Learning Objectives:
Examine the historical progression of metal cladding and the profound advancements in automated fabrication technology that surpass current industry production practices
Explore the types of Modular Panel Systems (MPS) and delve into their standout features including sustainability, finish, pressure equalized rainscreens and fire ratings
Investigate current standards pertaining to MPS integration capabilities highlighting industry codes, specifications, installation methods and testing criteria
Evaluate case studies that highlight the process and performance of MPS applications for an array of architectural design projects