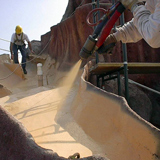 Low VOC Traffic-Bearing Membrane for Vehicular Decks

About the Sponsor
We have over 300,000 sq ft of manufacturing space across six chemical facilities in three strategic location in the United States to store and manufacturing large volumes. We ship our premium products globally and welcome inquires for private label and toll-blending opportunities. Our coating are found in world landmarks, stadiums, resorts, luxury residential living, and other high-profiling projects. Our Dallas, Texas Facility alone houses 44 reactors with the ability to manufacture batch sizes that range from 50-6,000 gallons. This manufacturing facility is also ISO 9001:2015 complaint, illustrating our commitment to producing consistently premium products. Our future growth is projecting a 10 million gallons per year manufacturing capacity gallons manufacturing capabilities.
Course questions/comments
1-562-802-8834
Friday, August 2, 2019 - 12:00pm to 1:00pm EDT
In this course you will learn about the four scenarios when considering coating of vehicular decking.
Learning Objectives:
Deck preparation between the perimeter of the repair area and the new concrete, a cold joint will occur. This should be sealed with one-part polyurethane sealant
Coating Selection one - part system is that it eliminates any mixing error, with the exception of the primer.
Application - most important screens in the presentation. The application of the coating system determines the mill thickness of each coat.
Maintenance and cost - deck should be inspected annually for damage and repairs made and discuss the actual cost of the deck repairs or planning a new one.