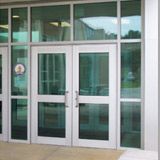 Protecting People and Property: Fortifying Building Safety with Ballistic, Blast, Storm Impact & Forced Entry Solutions

About the Sponsor
United States Bullet Proofing, Inc. offers a complete line of Blast, Ballistic and Forced Entry Resistant Doors, Windows and Wall Systems. Uses include buildings, safe rooms and guard booths. Our unique product designs have been developed to compliment today's architectural doors and windows. United States Bullet Proofing has an engineering department ready to assist you with your next project. Our licensed professional engineers, AutoCad operators and master craftsman have the skill and experience to design and manufacture doors, windows and wall systems to meet your security needs. Our certifications include DOS, H.P. White Labs, UL752, NIJ, GSA, UFC, ASTM and more. The pride and attention to detail that goes into each one of our high security products clearly demonstrates why we have achieved a reputation which has helped us grow steadily since 1988. Demand the very best, especially when your life or the lives of your clients depend on it.
Wednesday, October 4, 2023 - 12:00pm to 1:00pm EDT
As the number and volatility of threats to facility security and safety continue to escalate, protection is becoming paramount in the scope of today's facility design. Whether it's high-level protection from ballistics, blast, storm impact or forced entry, this course reviews the various protection levels, testing standards, best practices and the fundamental fenestration solutions which will fortify your building to protect people and property.
Learning Objectives:
Identify security threats which dictate design standards and product performance criteria
Compare and contrast design options to fortify buildings with security, safety, and aesthetics in mind
Define the different levels of ballistic, blast, and forced entry testing standards
Properly specify ballistic, blast, forced entry and storm impact fenestration solutions