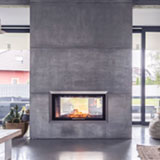 Stucco: Codes, Standards, and Rainscreen

About the Sponsor
SMA is a non-profit trade association comprised of the major manufacturers of stucco in North America and their related suppliers. Since 1957, SMA has actively engaged in promoting the products manufactured by our members, while holding high standards. Our members, the leaders in the industry, are committed to maintaining the highest levels of product quality,business ethics and professionalism among the membership and the building industry.
Course questions/comments
949-640-9902
Tuesday, November 21, 2023 - 12:00pm to 1:00pm EST
This 60 minute course on stucco will cover the various uses of stucco and other stucco like claddings. The program will cover moisture management, continuous Insulation and caveats for stucco designs and construction of walls using cement stucco. The course will cover the new International Code requirements adopted in 2021 for rainscreen with stucco claddings.
Learning Objectives:
Describe the various stucco systems on the market and how each can be used or may be suitable for different architecture, regions of the country including limitations
Discuss the coordination required for cement stucco to design, create construction documents and administrate
Identify the moisture management of each system to comply with new code requirements for cement stucco
Illustrate the appropriate use of stucco for enhance water drainage for healthier buildings and use of Continuous Insulation to improve energy efficiency of exterior walls