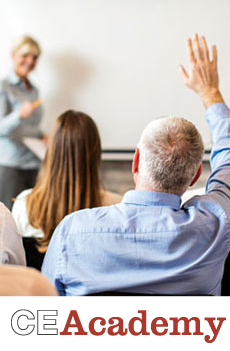 The CE Academy: Live Classroom
Style Education Events
If your company presents lunch-and-learn courses to architectural firms, you realize the value of getting in front of design professionals and presenting yourself and your company as experts on your products who can assist architects with product selection and specification. Lunch-and-learns can also be time-consuming and expensive when you do a lot of them. Our CE Academy live events can offset those costs by filling a room full of architects from in and around major U.S. cities which gives your presentation reach to multiple firms. We take care of everything from registration to catering and venue, to reporting attendance. Check out the map and details below for more information.


The CE Academy is a leader in teaming with leading building product manufacturers, State licensing boards, as well as AIA, CSI, and USGBC chapters across the country to deliver one-day CE Academy education and networking events. Present your Face-to-Face CE course at any number of events held several times a month throughout the U.S., and educate design professionals about your product technology. The CE Academy travels to over 50 cities per year giving you the perfect opportunity to present your course to a wide geographic audience and network with design professionals from multiple firms in one location. Because 95% of CE Academy attendees are typically spec writers and project architects, you can reach your target audience through a more effective, focused platform. We will also provide you with a custom invitation for your own marketing efforts as well as a list of attendees to incorporate into your future marketing programs.
CE Academy Events Include:
• Comprehensive event management including scheduling, registration, venue, and catering
• Advertising for the event to more than 100,000 design professionals
• Laptop and A/V equipment for course delivery
• AIA and CSI chapter partnerships to increase attendance
• Process member credits to AIA National and certificates to attendees
• The Management of attendance and evaluations; consolidated for your use
Unique opportunities and Sponsorships:
• Breakfast/Lunch Sponsor - 30 minute lunchtime product presentation (not for CE credit)
• Discounted spots for ADA (accessibility focused) courses for CA & TX events
Sponsor acknowledgements:
• Sponsor logo, website link and acknowledgement on event registration page
• Logo and acknowledgment in printed RBA Updater Publication
For additional information, please contact Christopher Massey using the form on this page

Visit CE Academy