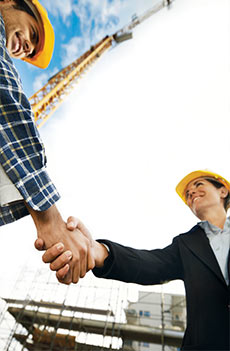 Ron Blank & Associates, Inc. (RBA) has helped hundreds of building product manufacturers in their efforts to build relationships with architectural design professionals. Our programs increase brand and product name recognition, identify your product experts as the "Go To" individuals for specification questions from design professionals and generate quality leads that aim to get your products specified in architecture firms across the U.S. We can customize programs for your company, whether you are budget conscious or engaged in a comprehensive approach. As with most clients who participate in multiple programs, a synergy occurs through a multi-faceted approach, enabling you to reach your specification goals quickly and efficiently.
Bridging The Gap Between Design Professionals
and Product Manufacturers
Ron Blank & Associates, Inc. and our affiliates have the same three goals:
Advance the name recognition and knowledge of our building manufacturer clients' products with design professionals.
Introduce our clients' professional team to architects and spec writers as the subject matter experts on their products.
Increase the selection and specification of our client's building products in architectural projects across the U.S.
Architectural Specification Program
RBA's Architectural Specification Program (ASP) is our core program and has been the backbone of our success as a company since 1985. Through this program, our architectural specification representatives meet one on one with spec writers and other design professionals at the largest A&E firms across the U.S. who make decisions about what building products are specified in their projects. Your product could be one of several that are presented to each decision maker every time our reps visit with a design professional. This gives you an edge over your competition, builds product and brand awareness, establishes you as the product expert, and opens the door for your team to follow up with that design professional and follow through to the specification of your products. Learn More About ASP
Continuing Education
Continuing Education (CE) is the most effective method for a manufacturer to get the most time in front of design professionals. Nearly all architects, engineers, and interior designers need multiple CE credit hours every year for both their professional license retention and respective trade organizational memberships, such as the American Institute of Architects (AIA). Reach your target audience by offering an AIA Continuing Education HSW (Health, Safety, and Welfare) course with a team of RBA professionals including architects, marketing and graphic design consultants and A/E curriculum experts. Ron Blank & Associates, Inc., a twice awarded winner of AIA's Award for Excellence, will coordinate with your product technical expert to develop and register your course with the AIA and other applicable organizations. Learn More About Continuing Education