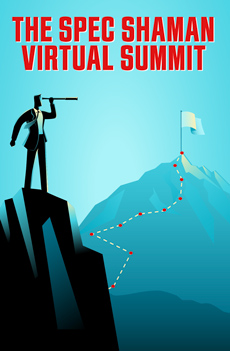 The Spec Shaman Virtual Summit: Become the Architects' Go-To Expert
Building Product Manufacturers will get inside the mind of the Spec Shaman and learn from industry experts about how architectural offices function. They will also learn about what tools design professionals need to consider their products for specification and how to prepare reps and sales teams for successful engagement with design professionals.
NEXT EVENT DATE TO BE ANNOUNCED
Hosted By Ron Blank & Associates, Inc.
The Spec Shaman Summit is a networking and education event for building product industry sales representatives and managers, marketing teams, and top executives. In addition to peers in your industry, you will meet and learn from top sales and marketing strategists, specification writers, architectural specification representatives, design professionals and other experts in the building product specification industry.
You Should Attend this Summit if…
You want design professionals to see you and your team as the
Go-To product experts in your field
You would like to see your products listed in A+E offices' master specifications
Architects, Engineers, Interior Designers and/or LEED professionals influence the specification of your products
You desire to create effective continuing education courses to communicate your product message
Getting new products launched to the masses is a challenge for
your team
You want to get your product into more LEED projects
A WORD FROM CRAIG

Marketing construction products to design professionals – architects, engineers, and interior designers – is completely different than selling products to businesses or consumers. Many construction product manufacturers do not understand that difference. Instead, they depend on marketing strategies developed for other industries and fall far short of their sales goals as a result. If you are marketing to design professionals but have never worked in a design professional's office you are unaware of how, why, when, and by whom product selections are made.

This seminar will help you understand design professionals and give you the tools you need to work with them. Our design professionals will share their years of experience on "the other side of the table", giving you the knowledge that you can put to work on your very next marketing call.
Attendees recieve a signed copy of
The Spec Shaman: How to Get Your Building Products Specified

"This book cuts through the fog of getting your product specified on a project…"
– Dean Moilanen, Noble Co.

"Many people lose sight of the fact that every project begins with a specification. The Spec Shaman sheds new light on the lost art of consultative selling on the part of a well-trained product rep."
– Warren Barber, National Gypsum Co.
Attendees of our past seminars include: