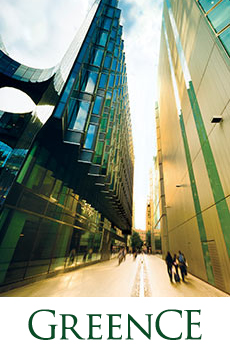 GreenCE, Inc.:
Sustainable Design Education
GreenCE offers free AIA continuing education courses and free LEED Specific hour courses. GreenCE also offers the only free LEED exam prep and LEED certification training in the country. Architects can obtain their ADA CE courses and Texas Barrier-Free CE courses on the platform. In addition, GreenCE works with building product manufacturers to develop Health Product Declarations (HPDs), Declare labels, Google Portico documentation, mindful MATERIALS data, and LEED v4 product documentation. Our team helps building product manufacturers get their products specified by architects.
GreenCE gets building products specified. Building product manufacturers use our services to educate architects, specifiers, engineers, interior designers, and contractors. Our team develops AIA continuing education, LEED courses, Health Product Declarations (HPDs), Declare Labels, and LEED product documentation.
AIA Continuing Education
Our team develops free AIA courses for design professionals to learn about your building products. Over 90,000 AIA members are required to take 18 AIA CE Hours annually. GreenCE will develop cutting-edge online courses, webinars, and face to face presentations to educate the decision makers.
GBCI Continuing Education
GreenCE is a USGBC Education Partner and the #1 provider of LEED education. Over 200,000 LEED professionals take GBCI education courses. Our team can develop a LEED CE course about your building product. In addition, GreenCE offers the only free LEED exam prep in the country to train your product reps and sales team about LEED v4.
LEED Product Documentation
Is your product LEED certified? The USGBC does not certify or endorse products. GreenCE helps building product manufacturers navigate the myths, misconceptions, and tricky waters of the LEED rating system. Our team helps you develop LEED Product Documentation so that your product can get specified.
Visit the Product Manufacturers section
at GreenCE.com to learn more.
Visit GreenCE.com