Is Plastic the Next Trend in Green Building?
In The Three Little Pigs, three houses are built: one made of straw; one made of sticks; and then as we all know, the victor against the wolf, one made of bricks. Recently, while reading an article about the Dutch non-profit, The Ocean Cleanup, and subsequent articles about what to do with all the plastic it collects, I wondered how a house made of plastic would've fared against that wolf?
The Ocean Cleanup launched a 2,000-foot-long debris collector called "System 001" into the San Francisco Bay to trap ocean waste, with the intent of cleaning up the Great Pacific Garbage Patch, a gyre consisting of nearly 90,000 tons of plastic refuse located 1,400 miles from the California coastline. Now that the beta phase is finished, The Ocean Cleanup is launching the array to the garbage patch. At that point, the plan is to catch the plastic and remove it from the ocean, and The Ocean Cleanup's computation models indicate a 50% reduction in the size of the Great Pacific Garbage Patch within 5 years, assuming they release multiple cleanup systems. Apart from releasing the cleanup array into a vast ocean that can present various challenges, The Ocean Cleanup group, started by Dutch inventor Boyan Slat in 2013 when he was a mere 18 years old, also faces the question of what to do with the plastic once they collect it.
According to their website, they plan to "investigate how we can reuse the material once it is back on shore. Initial work on ocean plastic recycling shows our material can be turned into high quality products. Imagine your next phone, chair, car bumper or sunglasses could be made from plastic retrieved from the Great Pacific Garbage Patch." Ideally, we would be able to eliminate the ocean being used as a garbage dump at all, as well as eliminate plastic all together. In the meantime, The Ocean Cleanup's innovativeness and effort are well-intentioned and hopefully successful. You can follow the journey of System 001 on Twitter.
Not Totally a New Idea
Recycling plastic into a new purpose, however, isn't a new idea. It's been explored in the build and design world for a while. Several resources and companies have already developed methods to do this:
Ecobricks: This online community offers guidelines for creating building blocks and units made from discarded plastic bottles. The concept involves packing plastic bottles with smaller pieces of plastic, and then stacking these "Ecobricks" like you would regular bricks. There are multiple suggestions for how to do this, as well as directions of what other materials can be used such as mud or plywood, how to bind the bottles together, and in what circumstances are these used best. It's a creative option, although long term benefits are still being determined.

ByBlocks by ByFusion: According to their website, ByFusion believes that 100% of plastic waste can be converted into new building material. Their ByBlocks require no adhesives to use; emit 95% less gas emissions than concrete and won't crumble under pressure; offer superior sound and temperature insulation; and contribute to LEED certification. They make ByBlocks by shredding collected plastic, superheating it, and then fusing it into a block shape with a ByFusion Blocker. BuFusion claims that ByBlocks are ideal for landscaping, infrastructure, furniture and décor, utility structures, modular housing, and warehouses and garages, among other things.

Govaplast by Govaerts Recycling: This Belgium-based company is the most traditional as far as recycling is concerned, breaking down plastic and forming it into different products. They make benches, decking boards, fencing, planter boxes, and tables, as well as other items. They adhere to the cradle-to-cradle philosophy and have made efforts to reduce their green footprint with the idea that recycling is a choice today but tomorrow, it will be a necessity.
An internet search resulted in a plethora of stories, websites, and articles dealing with different ways to reuse plastic. A few notable ones are this article about an Algerian man who builds houses made of sand-filled plastic bottles, this report on a college project outlining how to construct houses with plastic bottles, and this website that chronicles many innovative projects and options for recycling plastic and improving the earth and community. It appears that the fairy tale pigs should have considered using plastic as an option to defeat the wolf, since experiences are showing that it may indeed be a sturdy option for construction.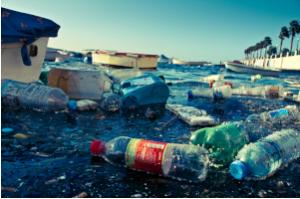 Is There a Catch in All This?
Finding alternative uses for plastic is one of my favorite sustainable projects I've researched, apart from ways to stop using plastic. But as I read more and more, my list of questions grew, and answers don't seem readily available.
If recycling and reusing plastic is so easy, why aren't more people doing it? An obvious answer is time and money. A lot of these options take precious time and energy, as well as money.

What do we know of the longevity of these options? We know that plastic breaks down, so how long-lasting are these options, as far as durability is concerned? And reports are all over the news and internet about BPAs and don't heat up or reuse plastic food containers. How does this affect buildings and furniture built with plastic?

From a product manufacturer perspective, what affect can this option have on specification? Should you be worried about another competitor, or should you be looking at ways to use plastic in your current product?

The most glaring question I have about these options is—what happens if we run out of plastic? If we achieve a goal of eliminating the production of plastic and find that all the plastic waste has been recycled or repurposed, then what happens when companies stop making a profit from recycling and reusing plastic? My pessimistic concern, that someone somewhere will continue to manufacture plastic to make money from it, is derived from my optimistic hope that we will one day eliminate the production of plastic all together. It's a dichotomous position, for sure, but a valid question for an economy driven culture based off supply and demand.
What We Do Know
I don't know that there are answers to these questions, or if these innovations in plastic recycling are good or bad. But I do know that there are ways to learn more about using plastic in the AEC industry, as well as options for becoming a LEED Green Associate which will increase understanding for sustainable building, whether you are an architect, designer, or product manufacturer. One option is to explore our free courses, as well as premium courses which are found under the LEED General and the LEED Specific tabs. We also offer a free LEED Prep Exam course, if you're interested in acquiring a LEED Green Associate credential, which is a great step toward specification opportunities on LEED projects. Continuing to educate ourselves is one way I do know can propel us toward better understanding of all things related to sustainability and green building.
Have you used any of the companies or techniques I mentioned, or have you been following The Ocean Cleanup? Do you manufacture a product from plastic and have been specified? Or do you have the answers to all my questions posed? Let us know what you think!
For more information or to discuss the topic of this blog, please contact Brad Blank