Will LEED v4.1 Be A Game-Changer for Product Manufacturers?
LEED v4.1 could be a game-changer for building product manufacturers in 2018. Our team recently met with Mahesh Ramanujam, CEO of the USGBC to learn more about LEED v4.1. The Texas Breakfast event in Austin provided attendees an opportunity to learn about the changes coming down the pipeline.
Mahesh discussed several significant aspects of LEED. Data collection is one of the major drives in 2018 for LEED buildings. As they say, the proof is in the pudding. The more data that project teams, manufacturers, and sustainability advocates have, the quicker and more effectively we can transform the built environment.
In addition, Mahesh pointed out that countries outside of the U.S. are making great strides in green building. China, Canada, and India have increased the amount of LEED certified projects. The U.S. needs to increase the amount of building projects being LEED certified, especially in the residential sector. LEED for Homes hasn't been as strong as the commercial sector and there are many opportunities available to increase market share.
LEED v4.1 O+M Beta
LEED v4 is the most stringent green building rating system on the planet. From improving energy performance to protecting human health and supporting integrative building design, LEED encourages project teams to go beyond the status quo. LEED v4.1 is not a modification of the entire rating system, but rather an important update to the LEED rating systems. In a previous blog, LEED v4.1 Is Coming – Are You Ready?, we outlined many changes being discussed for LEED v4.1. But now we have concrete information about several of the changes.
Starting March 26th, design professionals can register to participate in the LEED v4.1 O+M beta. The USGBC has released a LEED v4.1 Operations and Maintenance Guide for beta participants. Building product manufacturers and project teams may be affected by the revisions in the Materials & Resources category.
LEED v4.1 O+M Materials and Resources Category
The revisions for the new system will improve standards, encourage leadership, and make the platform more user friendly and more accessible. The changes in the MR Category include the following LEED prerequisites/ credits:
MR Prerequisite: Purchasing Policy

MR Prerequisite: Facility Maintenance and Renovation Policy

MR Prerequisite: Waste Performance

MR Credit: Purchasing
For MR Credit: Purchasing Policy, the intent is "to reduce environmental harm from materials and products purchased, used, installed, and disposed of during the operations and maintenance of buildings." This new LEED credit is a combination of Purchasing- Ongoing, Purchasing – Lamps, and Facility maintenance and Renovation. The credit applies to O+M: Existing Buildings and O+M: Interiors.
There are four options for this credit, but we will focus on two that may have the most significance for manufacturers: Option 2: Building Materials and Option 3: Electronic Equipment.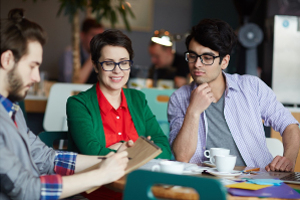 MR Credit: Purchasing – Option 2: Building Materials
For at least one month, track all building material purchases (including furniture) used and/or installed as part of space reconfigurations, additions/alternations, or renovations. Purchase at least 50% (1 point) or 75% (2 points, Interiors only), by cost, of total building materials that meet at least one of the following criteria under Reporting, Optimization, and other attributes.
The reporting requirement offers potential opportunities for manufacturers. Project teams are rewarded when they purchase building materials that have product transparency documentation such as:
Health Product Declaration (HPD). The end use product has a published, complete Health Product Declaration with full disclosure of known hazards in compliance with the Health Product Declaration Open Standard. HPDs have become one of the most requested product specification tools in the AEC industry. Manufacturers would be wise to develop HPDs if they have not already done so.

Cradle to Cradle Certified. Products purchased have earned Cradle to Cradle certification of any level, Version 3 or newer.

Declare Label. The Declare label must indicate that all ingredients have been evaluated and disclosed down to 1000 ppm.

ANSI/BIFMA e3 Furniture Sustainability Standard.

Environmental product declaration (EPD). The EPD can be either industry-wide (generic) EPD or product specific Type III EPD with third party external verification in which the manufacturer is explicitly recognized as the participant by the program operator.

Facts - NSF/ANSI 336. Sustainability Assessment for Commercial Furnishings Fabric at any certification level.

Product Lens certification.
MR Credit: Purchasing – Option 2: Building Materials also rewards project teams for using products that meet optimization requirements. GreenScreen, Cradle to Cradle, EPD optimization, supply chain optimization, FSC wood products, and other factors play a role for awarding project teams for that select optimized products. Low formaldehyde, low VOC emissions, and zero waste manufacturing also play a role for this Credit option.
MR Credit: Purchasing – Option 3. Electronic Equipment
For at least one month, track all electronic equipment purchases. Purchase at least 50%, by cost, electronic equipment that meets at least one of the following criteria. In addition, create a phase-out plan to replace remaining products with compliant equipment at the end of their useful life.
EPEAT rating

ENERGY STAR rating. If the equipment does not yet fall under the EPEAT rating systems, it must be ENERGY STAR® qualified or performance equivalent for projects outside the U.S.

Lamps. Lamps must contain no mercury (with equivalent energy efficiency as mercury containing lamps) or have an average low mercury content of 25 picograms per lumen-hour or less.
How to Get Involved in LEED v4.1 O+M Beta Certification
Project teams wanting to collaborate in the beta process, must follow several steps: confirm eligibility, select appropriate rating system, sign up, get started, and certify! Each beta project will receive extra support from USGBC. Once registered, project teams will be contacted by a representative from our team to help you along the way. GBCI, the certification body for the LEED rating system, will perform the beta certification reviews, in accordance with the Guide to Certification for Commercial projects.
Help Improve The LEED Rating System
The USGBC has implemented a new feature allowing anyone to submit a proposal for the LEED rating system. Proposals must be edits to the existing LEED language using tools provided by USGBC. Multiple proposals for change from the same person/organization for each LEED credit are permitted. The LEED Steering Committee will distribute the proposals to the relevant subcommittees for consideration and recommendations. This feedback will shape the future of the rating system.
For more information or to discuss the topic of this blog, please contact Brad Blank